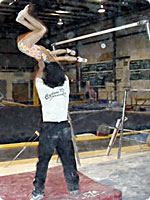 Private instruction is available for working on specific skills a student needs help with. Privates are available to enrolled students only and should not be a substitute for regular classes or interfere with scheduled practice times.
To schedule a private or for more information, please contact the specific coach you wish your child to have a private session with.
The cost of a private is $50.00 per hour or $30.00 per half hour session payable to Cyclone Gymnastics.